STEINER SPORTS
WHAT IS STEINER SPORTS?
Steiner Sports is the leading producer of authentic hand-signed collectibles and the best source for all your sports gift and collectible needs. Autographed memorabilia from star athletes like Derek Jeter, Peyton Manning, Chris Paul and Henrik Lundqvist are the hottest new memorabilia products on the market. Steiner continuously dedicates itself to creating the most unique, limited and special collectibles.



QUALITY AND INTEGRITY OF THE PRODUCTS
Our line of hand-signed memorabilia is guaranteed authentic. We research thousands of photographs to find the ones that capture the greatest moments in sports, like Mariano Rivera's final pitch, Buckner's error, or Eli Manning's 'Great Escape' or Mark Messier raising the Stanley Cup. Each autographed piece has a hologram with a matching certificate of authenticity so you can be confident in your investment. As our motto states, "The Steiner Seal Means It's Real.'
CLICK HERE TO GO TO STEINER SPORTS AND BROWSE AROUND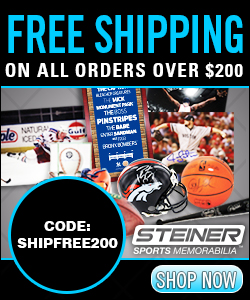 EXAMPLES OF STEINER SPORTS MEMORABILIA
Stephen Curry Framed Collage                           Kristaps Porzingis Signed Logo Collage

With Game-Used Net                                             
Rick Barry Signed Photo                                                       Robert Parrish Autograph (Sports Illustrated)
These are just a few examples of the variety of memorabilia that Steiner Sports provide. Memorabilia for every sport is available. CLICK HERE to go to Steiner Sports and browse around!